!link rel="shortcut icon" href="/favicon.ico" />
Mid-West Truck Accessories
Welcome to the Mid-West Truck Accessories website. We specialize in the TRUCK / SUV / CUV / JEEP automotive aftermarket and are passionate about the accessory business. Our commitment is to provide you, our customer, with a great experience during and after the sales process.


CargoGlide CG1000 Cargo Slide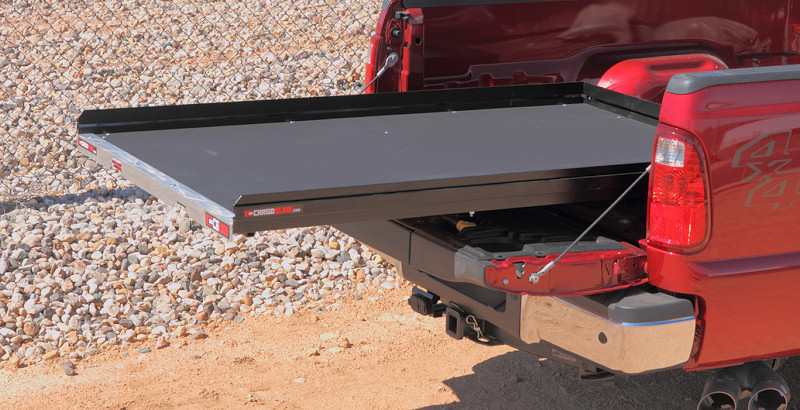 CargoGlide CG1000 Cargo Slide
Cargoglide units with 65% to 75% extension are designed with a low profile deck height of 3.875". With Recessed Handles and room for a sheet of plywood, our units work seamlessly with your vehicle. Side Thrust Bearings allow for smooth operation witht the vehicle is parked off-camber.
Always check for clearances under the truck and van bed before drilling. Measure for tailgates with accessories and tailgates that do lay flat. The unit may need a spacer kit to clear the tailgate during operation.
Specifications
---
Aluminum, Steel and Diamond Plate Deck Available
1,000lbs Capacity
Preassembled for 30-Minute Installation
6 Cam Follower Needle and Sealed Ball Bearings
65-75% Extension
USA Steel Frame
Side Thrust Bearings for Smooth Operation While Vehicle is Tilted
Full Perimeter Tie Down Track
Industrial Laminated 3/4" Marine Grade Plywood
Heavy Duty Tie Downs Included
Standard Install Kit Included (Composite and non-standard beds require a different install kit purchased separately)
Features
---
CATEGORY: CG Series
UNIT EXTENSION: 65% - 75%
LENGTH: 36" - 95"
DECK WIDTH: 24" - 48"
SIDE RAILS: 4"
WEIGHT: 140 - 180 lbs
CUSTOM SIZES AVAILABLE