!link rel="shortcut icon" href="/favicon.ico" />
Mid-West Truck Accessories
Welcome to the Mid-West Truck Accessories website. We specialize in the TRUCK / SUV / CUV / JEEP automotive aftermarket and are passionate about the accessory business. Our commitment is to provide you, our customer, with a great experience during and after the sales process.


CargoGlide CG1000XL Cargo Slide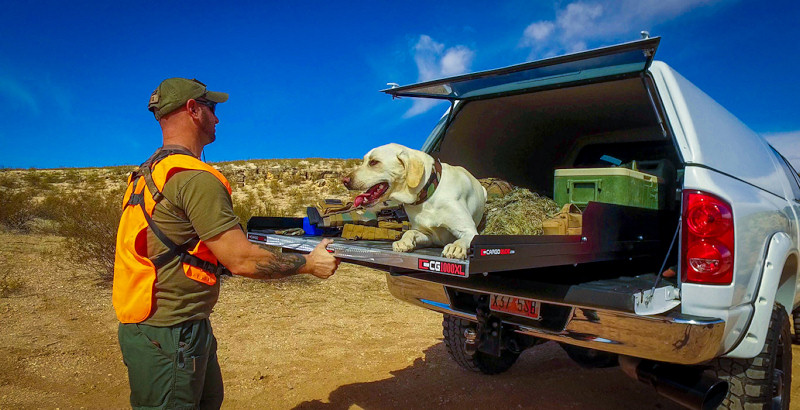 CargoGlide CG1000XL Cargo Slide
A Cargoglide XL model is designed to roll 100% out the back of your vehicle. A Recessed Handle doesn't use any valuable storage space. 48" of deck clearance allows stowage of a sheet plywood. Side Thrust Bearings enable smooth operation when the vehicle is parked off-camber.
Always check for clearances under the truck and van bed before drilling. Measure for tailgates with accessories and tailgates that do lay flat. The unit may need a spacer kit to clear the tailgate during operation.
Specifications
---
Aluminum, Steel and Diamond Plate Deck Available
1,000lbs Capacity
Preassembled for 30-Minute Installation
20 Cam Follower Needle and Sealed Ball Bearings
100% Extension
USA Steel Frame
Side Thrust Bearings for Smooth Operation While Vehicle is Tilted
Full Perimeter Tie Down Track
Industrial Laminated 3/4" Marine Grade Plywood
Heavy Duty Tie Downs Included
Standard Install Kit Included, (Aluminum bed install kit NOT included)
Features
---
CATEGORY: CG XL Series
UNIT EXTENSION: 100%
LENGTH: 36" - 75"
DECK WIDTH: 24" - 48"
SIDE RAILS: 4" with 8" High Sides
WEIGHT: 165 - 295 lbs
CUSTOM SIZES AVAILABLE
Installation Notes
---
The CG1000XL is a 100% unit and has a low deck height at 4.5". Some truck tail gates do not lay flat. They lay tilted up enough that will cause binding when the unit is fully extended. Please check and measure your tailgate before ordering. If the tailgate of your truck is NOT flat, then you have two options. One choice is to install "Tail Gate Drop Down Links" which we sell as an accessory. However some newer trucks do not allow for this modification. The second choice is to install a "Spacer Kit" under the CG1000XL. The "Spacer Kit" is designed to raise the unit high enough to clear a tail gate that does NOT lay perfectly flat.