!link rel="shortcut icon" href="/favicon.ico" />
Mid-West Truck Accessories
Welcome to the Mid-West Truck Accessories website. We specialize in the TRUCK / SUV / CUV / JEEP automotive aftermarket and are passionate about the accessory business. Our commitment is to provide you, our customer, with a great experience during and after the sales process.

Extang Solid Fold 2.0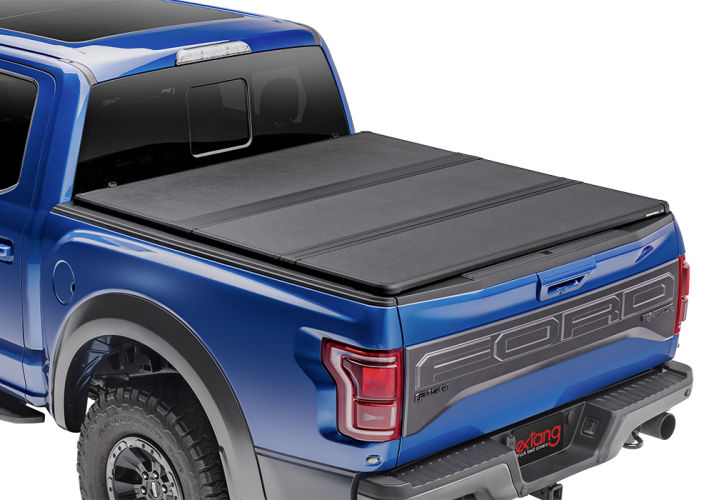 Solid Fold 2.0 Tonneau Cover
Extang's latest generation of hard tri-fold truck bed covers includes design elements that you simply will not find anywhere else. The Solid Fold 2.0 includes Extang's exclusive, patented Jaw-Grip and EZ-Lock clamps, 1" thick EnduraShield panels, revolutionary snap-on perimeter seals that protect from the elements, and integrated corner and hinge seals.
Description
---
The Solid Fold 2.0's EnduraShield panels feature an automotive grade polymer that resists dents, scratches, and UV induced fading better than aluminum or fiberglass panels. Extang's professionally engineered aluminum frame and hinges are powder coated to match your truck's bed caps for an integrated cohesive appearance and incredible protection from wear.
Looking to accommodate your toolbox? View our Solid Fold 2.0 Toolbox edition. Need the ability to access your truck bed from the front and back check out our Encore Tonno cover
Features
---
Our exclusive, lightweight, 1-inch thick EnduraShield panels provides strength & durability with a weight rating of 600 lbs evenly distributed
Matte Black Textured Finish with powder coated aluminum frames & hinges for extra wear resistance
Our exclusive hard polymer rubber corners, hinge caps and snap-on seals helps resist from harsh weather
Our cab clamps attach directly to your bed flanges without damage/alteration to your bed caps
Re-engineered patented EZ-Lock Clamp requires minimal effort to operate and self-locks in position